Toyota Highlander Service Manual: Timing gear case or timing chain case oil seal (2AZ-FE)
REPLACEMENT
1. REMOVE FRONT WHEEL RH
2. REMOVE FRONT FENDER SPLASH SHIELD FRONT RH
3. REMOVE FRONT FENDER APRON SEAL RH
4. REMOVE ENGINE COVER SUB-ASSY NO.1
5. REMOVE ENGINE MOUNTING STAY NO.2 RH
6. REMOVE ENGINE MOVING CONTROL ROD W/BRACKET (See page 14-24 )
7. REMOVE ENGINE MOUNTING STAY NO.2 RH
8. REMOVE ENGINE MOUNTING BRACKET NO.2 RH
9. REMOVE FAN AND GENERATOR V BELT (See page 14-5 )
10. REMOVE CRANKSHAFT PULLEY (See page 14-41 )
11. REMOVE TIMING GEAR CASE OR TIMING CHAIN CASE OIL SEAL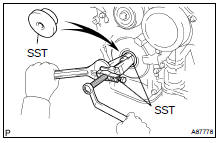 (a) Using SST, remove the oil seal.
SST 09308-10010, 09950-60010 (09951-00200)
12. INSTALL TIMING GEAR CASE OR TIMING CHAIN CASE OIL SEAL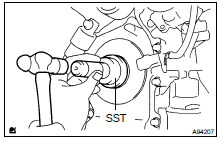 (a) Apply MP grease to a new oil seal lip.
NOTICE: Keep the lip free from a foreign matter.
(b) Using SST and a hammer, tap in the oil seal until its surface is flush with the rear oil seal retainer edge.
SST 09223-22010
NOTICE: Wipe off extra grease from the crankshaft.
13. INSTALL CRANKSHAFT PULLEY (See page 14-41 )
14. INSTALL FAN AND GENERATOR V BELT (See page 14-5 ) Torque: 52 NVm (531 kgfVcm, 38 ftVlbf)
15. INSTALL ENGINE MOUNTING BRACKET NO.2 RH Torque: 52 NVm (531 kgfVcm, 38 ftVlbf)
16. INSTALL ENGINE MOUNTING STAY NO.2 RH Torque: 64 NVm (653 kgfVcm, 47 ftVlbf)
17. INSTALL ENGINE MOVING CONTROL ROD W/BRACKET (See page 14-24 )
18. INSTALL FRONT WHEEL RH
19. CHECK FOR ENGINE OIL LEAKS
REPLACEMENT 1. WORK FOR PREVENTING GASOLINE FROM SPILLING OUT (See page 11-1 ) 2. REMOVE FRONT SUSPENSION BRACE SUB-ASSY UPPER CENTER (W/ FRONT SUSPENSION BRACE UPPER CENTER) 3. DRAIN COOLANT (S ...
REPLACEMENT 1. REMOVE AUTOMATIC TRANSAXLE ASSY (See page 40-12 ) HINT: Remove and install the transaxle after removing the engine assy w/ transaxle. 2. REMOVE DRIVE PLATE & RING GEAR SUB-ASSY ...
More about Toyota Highlander:
Rear NO.1 Seat ASSY RH (W/rear NO.2 Seat)
COMPONENTS OVERHAUL HINT: The installation procedures are the removal procedures in reverse order. However, only installation procedures requiring additional information are included. A bolt without a torque specification is shown in the standard bolt chart (see page 03-2 ). 1 ...
В© 2011-2022 Copyright www.tohighlander.com