Toyota Highlander Service Manual: Inspection
1. INSPECT GARAGE DOOR OPENER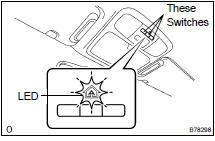 (a) Press the switch and check that each red LED turns on.
If one or more of the switches does not turn on the LED, confirm normal operation of the fuse and wire harness, then replace the garage door opener.
2. INSPECT GARAGE DOOR OPENER REGISTRATION AND TRANSMITTING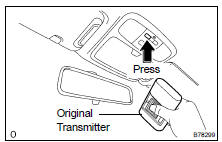 HINT: Use the KENTMORE home link tester and a tester transmitter for this test. First erase the customer's transmitter code, and the register the tester transmitter code.
(a) Check if the tester transmitter code was successfully registered.
HINT: If the code cannot be registered, replace the garage door opener.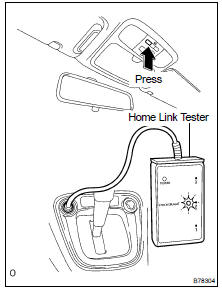 (b) Press the garage door opener switch that was registered to the tester transmitter. Check if the home link tester's green LED illuminates.
HINT: If the green LED does not illuminate, replace the garage door opener.
(c) When the inspection is complete, re-register the customer's transmitter code(s) again.
1. REGISTER TRANSMITTER CODE HINT: The vehicle's garage door opener records transmitter codes for systems such as garage doors, gates, entry gates, door locks, home lighting systems, security sys ...
Ignition switch PROBLEM SYMPTOMS TABLE Symptom Suspected Area Ignition switch is not set in each position Ignition switch Power source circuit ...
More about Toyota Highlander:
Customer problem analysis
HINT: In troubleshooting, the problem symptoms must be confirmed accurately. Preconceptions should be discarded in order to give an accurate judgement. To clearly understand what the problem symptoms are, it is extremely important to ask the customer about the problem and the condit ...
В© 2011-2023 Copyright www.tohighlander.com