Toyota Highlander Service Manual: Water pump ASSY (2AZ-FE)
REPLACEMENT
1. DRAIN ENGINE COOLANT (See page 16-6 )
2. REMOVE FRONT WHEEL RH
3. REMOVE FRONT FENDER APRON SEAL RH
4. REMOVE ENGINE MOVING CONTROL ROD W/BRACKET (See page 14-24 )
5. REMOVE ENGINE MOUNTING STAY NO.2 RH (See page 14-24 )
6. REMOVE ENGINE MOUNTING BRACKET NO.2 RH (See page 14-24 )
7. REMOVE FAN AND GENERATOR V BELT (See page 14-5 )
8. REMOVE GENERATOR ASSY (See page 19-16 )
9. REMOVE WATER PUMP PULLEY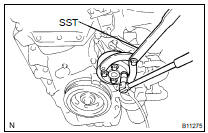 (a) Using SST, remove the 4 bolts and pump pulley.
SST 09960-10010 (09962-01000, 09963-00700) (b) Disconnect the crankshaft position sensor wire harness clamp.
10. REMOVE WATER PUMP ASSY
(a) Remove the 4 bolts, 2 nuts, bracket and water pump.
11. INSTALL WATER PUMP ASSY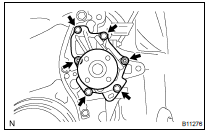 (a) Remove any old packing (FIPG) material and be careful not to drop any oil on the contacting surfaces of the water pump and cylinder block.
HINT:
Using a razor blade and gasket scraper, remove all the old packing (FIPG) materials from the gasket surfaces and sealing grooves.
Thoroughly clean all components to remove all loose material.
Using a non-residue solvent, clean both sealing surfaces.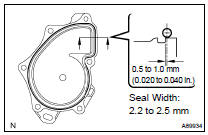 (b) Apply seal packing to the water pump as shown in the illustration.
Seal packing: Part No. 08826-00080 or equivalent
HINT:
Install a nozzle that has been cut to a 2.2 to 2.5 mm (0.087 to 0.098 in.) opening.
Parts must be assembled within 5 minutes of application.
Otherwise the material must be removed and reapplied.

Immediately remove the nozzle from the tube.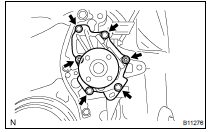 (c) Install the water pump and bracket with the 4 bolts and 2 nuts.
Torque: 9.0 NVm (92 kgfVcm, 80 in.Vlbf) (d) Connect the crankshaft position sensor wire harness clamp.
12. INSTALL WATER PUMP PULLEY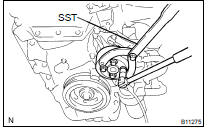 (a) Using SST, install the pump pulley with the 4 bolts.
SST 09960-10010 (09962-01000, 09963-00700) Torque: 26 NVm (265 kgfVcm, 19 ftVlbf)
13. INSTALL GENERATOR ASSY (See page 19-16 )
14. INSTALL FAN AND GENERATOR V BELT (See page 14-5 )
15. INSTALL ENGINE MOUNTING BRACKET NO.2 RH (See page 14-24 )
16. INSTALL ENGINE MOVING CONTROL ROD W/BRACKET (See page 14-24 )
17. INSTALL ENGINE MOUNTING STAY NO.2 RH (See page 14-24 )
18. INSTALL FRONT FENDER APRON SEAL RH
19. INSTALL FRONT WHEEL RH
20. ADD ENGINE COOLANT (See page 16-6 )
21. CHECK FOR ENGINE COOLANT LEAKS (See page 16-1 )
REPLACEMENT 1. DRAIN ENGINE COOLANT (a) Remove the radiator cap. CAUTION: Do not remove the radiator cap while the engine and radiator are still hot. Pressurized, hot engine coolant and steam m ...
1. INSPECT WATER PUMP ASSY (a) Visually check for drain hole coolant leakage. (b) Turn the pulley, and check that the water pump bearing moves smoothly and noiselessly. If the bearing moves ...
More about Toyota Highlander:
Gauge and meters
The displayed content may differ depending on the type of meter. Vehicles with monochrome display Vehicles with color display Tachometer displays the engine speed in revolutions per minute. Multi-information display presents the driver with a variety of driving-related ...
В© 2011-2021 Copyright www.tohighlander.com