Toyota Highlander Owners Manual: Tire size
Typical tire size information
The illustration indicates typical tire size.
Tire use (p = passenger car, t = temporary use)
section width (millimeters)
aspect ratio (tire height to section width)
tire construction code (r = radial, d = diagonal)
wheel diameter (inches)
load index (2 digits or 3 digits)
speed symbol (alphabet with one letter)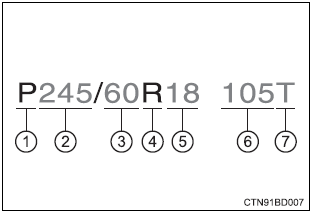 Tire dimensions
Section width
tire height
wheel diameter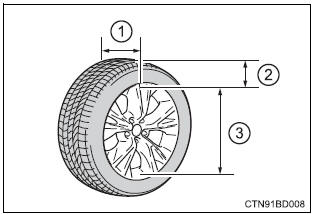 Dot symbol* tire identification number (tin) tire manufacturer's identification mark tire size code manufacturer's optional tire type code (3 or 4 letters) manufacturing week manufa ...
Bead sidewall shoulder tread belt inner liner reinforcing rubber carcass rim lines bead wires chafer ...
More about Toyota Highlander:
Opening the back door from outside the vehicle
Back door opener Vehicles without a power back door Raise the back door while pressing up the back door opener switch. Vehicles with a power back door When the back door is unlocked: press the back door opener switch. When the back door is locked (vehicles with a smart key s ...
© 2011-2019 Copyright www.tohighlander.com