Toyota Highlander Service Manual: Timing gear case or timing chain case oil seal (2AZ-FE)
REPLACEMENT
1. REMOVE FRONT WHEEL RH
2. REMOVE FRONT FENDER SPLASH SHIELD FRONT RH
3. REMOVE FRONT FENDER APRON SEAL RH
4. REMOVE ENGINE COVER SUB-ASSY NO.1
5. REMOVE ENGINE MOUNTING STAY NO.2 RH
6. REMOVE ENGINE MOVING CONTROL ROD W/BRACKET (See page 14-24 )
7. REMOVE ENGINE MOUNTING STAY NO.2 RH
8. REMOVE ENGINE MOUNTING BRACKET NO.2 RH
9. REMOVE FAN AND GENERATOR V BELT (See page 14-5 )
10. REMOVE CRANKSHAFT PULLEY (See page 14-41 )
11. REMOVE TIMING GEAR CASE OR TIMING CHAIN CASE OIL SEAL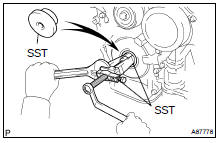 (a) Using SST, remove the oil seal.
SST 09308-10010, 09950-60010 (09951-00200)
12. INSTALL TIMING GEAR CASE OR TIMING CHAIN CASE OIL SEAL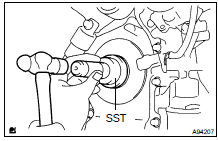 (a) Apply MP grease to a new oil seal lip.
NOTICE: Keep the lip free from a foreign matter.
(b) Using SST and a hammer, tap in the oil seal until its surface is flush with the rear oil seal retainer edge.
SST 09223-22010
NOTICE: Wipe off extra grease from the crankshaft.
13. INSTALL CRANKSHAFT PULLEY (See page 14-41 )
14. INSTALL FAN AND GENERATOR V BELT (See page 14-5 ) Torque: 52 NVm (531 kgfVcm, 38 ftVlbf)
15. INSTALL ENGINE MOUNTING BRACKET NO.2 RH Torque: 52 NVm (531 kgfVcm, 38 ftVlbf)
16. INSTALL ENGINE MOUNTING STAY NO.2 RH Torque: 64 NVm (653 kgfVcm, 47 ftVlbf)
17. INSTALL ENGINE MOVING CONTROL ROD W/BRACKET (See page 14-24 )
18. INSTALL FRONT WHEEL RH
19. CHECK FOR ENGINE OIL LEAKS
REPLACEMENT 1. WORK FOR PREVENTING GASOLINE FROM SPILLING OUT (See page 11-1 ) 2. REMOVE FRONT SUSPENSION BRACE SUB-ASSY UPPER CENTER (W/ FRONT SUSPENSION BRACE UPPER CENTER) 3. DRAIN COOLANT (S ...
REPLACEMENT 1. REMOVE AUTOMATIC TRANSAXLE ASSY (See page 40-12 ) HINT: Remove and install the transaxle after removing the engine assy w/ transaxle. 2. REMOVE DRIVE PLATE & RING GEAR SUB-ASSY ...
More about Toyota Highlander:
Uniform tire quality grading
This information has been prepared in accordance with regulations issued by the national highway traffic safety administration of the u.S. Department of transportation. It provides the purchasers and/or prospective purchasers of toyota vehicles with information on uniform tire quality grading. ...
В© 2011-2020 Copyright www.tohighlander.com