Toyota Highlander Service Manual: Inspection
1. INSPECT V (COOLER COMPRESSOR TO CRANKSHAFT PULLEY) BELT NO.1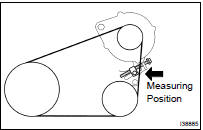 (a) Belt tension: Using a belt tension gauge, check the V belt tension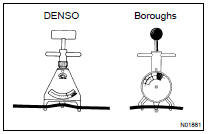 NOTICE:
Check the V belt deflection at the specified point.
When installing a new belt, set its tension value as specified.
When checking a belt used for over 5 minutes, confirm the deflection value is within the specified range.
When reinstalling a belt used for over 5 minutes, perform the check based on the used deflection value.
V belt tension and deflection values should be checked after 2 revolutions of engine cranking.
When using a belt tension gauge, confirm the accuracy first by using a master gauge.
Check that the drive belt fits properly in the ribbed grooves.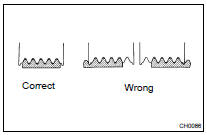 1. REMOVE V (COOLER COMPRESSOR TO CRANKSHAFT PULLEY) BELT NO.1 (a) Loosen bolt A. (b) Loosen bolt B. (c) Loosen bolt C and remove the V belt. 2. INSTALL V (COOLER COMPRESSOR TO CRANKSHAFT PULL ...
More about Toyota Highlander:
Exhaust pipe ASSY (3MZ-FE)
COMPONENTS REPLACEMENT NOTICE: Check if an old gasket remains on the pipe. If remains, remove it. Check if any bolts or nuts are rusted. If rusted, replace them. 1. REMOVE HEATED OXYGEN SENSOR (a) Remove the 2 heated oxygen sensors (bank 1, 2 sensor 2). 2. REMOVE EXHAUST PIPE ASSY ...
В© 2011-2020 Copyright www.tohighlander.com