Toyota Highlander Service Manual: Inspection
1. INSPECT WATER PUMP ASSY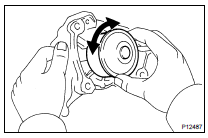 (a) Visually check the drain hole for coolant leakage.
(b) Turn the pulley, and check that the water pump bearing moves smoothly and noiselessly.
If the bearing moves roughly or noisily, replace the water pump assy.
(c) Visually check the air holes for coolant leakage.
If leakage is found, replace the water pump assy.
if engine coolant has leaked onto the timing belt, replace the timing belt.
1. DRAIN ENGINE COOLANT (See page 16-26 ) 2. REMOVE FRONT WHEEL RH 3. REMOVE FRONT FENDER APRON SEAL RH 4. REMOVE V BELT NO. 1 (See page 14-125 ) 5. REMOVE VANE PUMP V BELT (See page 14-125 ) 6. ...
REPLACEMENT HINT: The installation procedures are the removal procedures in reverse order. However, only installation procedures requiring additional information are included. 1. DRAIN ENGINE CO ...
More about Toyota Highlander:
Cylinder head ASSY (2AZ-FE)
COMPONENTS OVERHAUL 1. REMOVE VALVE LIFTER HINT: Arrange the valve lifters in the correct order. 2. REMOVE INTAKE VALVE (a) Using SST and wooden blocks, compress and remove the 8 valve spring retainer locks. SST 09202-70020 (09202-00010) (b) Remove the retainer, valve spring and v ...
В© 2011-2019 Copyright www.tohighlander.com