Toyota Highlander Service Manual: Window glass (antenna wire)
REPAIR
1. INSPECT WINDOW GLASS (ANTENNA WIRE)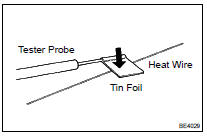 NOTICE: When cleaning the glass, use a soft, dry cloth, and wipe the glass in the direction of the wire. Take care not to damage the wires. Do not use detergents or glass cleaners with abrasive ingredients. When measuring voltage, wind a piece of tin foil around the top of the negative probe and press the foil against the wire with your finger, as shown in the illustration.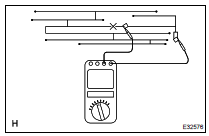 (a) Inspect the continuity at the center of each antenna wire as shown in the illustration.
2. REPAIR WINDOW GLASS (ANTENNA WIRE)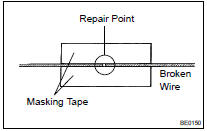 (a) Clean the broken wire tips with a grease, wax and silicone remover.
(b) Place the masking tape along both sides of the wire to be repaired.
(c) Throughly mix the repair agent (Dupont paste No. 4817).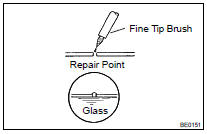 (d) Using a fine tip brush, apply a small amount to the wire.
(e) After a few minutes, remove the masking tape.
(f) Do not repair the defogger wire for at least 24 hours.
REPLACEMENT HINT: COMPONENTS: See page 67-2 Installation is in the reverse order of removal. 1. REMOVE INSTRUMENT CLUSTER FINISH PANEL ASSY CENTER 2. REMOVE FRONT SEAT ARMREST ASSY CENTER ...
More about Toyota Highlander:
Customer problem analysis
HINT: In troubleshooting, the problem symptoms must be confirmed accurately. Preconceptions should be discarded in order to give an accurate judgement. To clearly understand what the problem symptoms are, it is extremely important to ask the customer about the problem and the condit ...
В© 2011-2021 Copyright www.tohighlander.com