Toyota Highlander Service Manual: Ventilation valve Sub-ASSY (3MZ-FE)
REPLACEMENT
1. REMOVE VENTILATION VALVE SUB-ASSY
Disconnect the ventilation hose from the ventilation valve.
Remove the ventilation valve.
2. INSTALL VENTILATION VALVE SUB-ASSY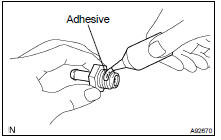 (a) Install the ventilation valve.
Apply adhesive to 2 or 3 threads.

Adhesive:
Part No. 08833-00070, THREE BOND 1324 or equivalent

Install the ventilation valve.

Torque: 19 NVm (193 kgfVcm, 14 ftVlbf)
(b) Connect the ventilation hose to the ventilation valve.
REPLACEMENT 1. REMOVE EXHAUST PIPE ASSY CENTER (a) Remove the 4 bolts and 4 compression springs. (b) Remove the exhaust pipe center from the 4 exhaust pipe supports. (c) Remove the 2 gaskets from ...
More about Toyota Highlander:
Repair
1. STEERING OFF CENTER REPAIR PROCEDURE (a) Inspect steering wheel off center. Apply masking tape on the top center of the steering wheel and steering column upper cover. Drive the vehicle in a straight line for 100 meters at a constant speed of 35 mph (56 km/h), and hold ...
В© 2011-2019 Copyright www.tohighlander.com