Toyota Highlander Service Manual: Ventilation valve Sub-ASSY (3MZ-FE)
REPLACEMENT
1. REMOVE VENTILATION VALVE SUB-ASSY
Disconnect the ventilation hose from the ventilation valve.
Remove the ventilation valve.
2. INSTALL VENTILATION VALVE SUB-ASSY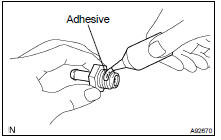 (a) Install the ventilation valve.
Apply adhesive to 2 or 3 threads.

Adhesive:
Part No. 08833-00070, THREE BOND 1324 or equivalent

Install the ventilation valve.

Torque: 19 NVm (193 kgfVcm, 14 ftVlbf)
(b) Connect the ventilation hose to the ventilation valve.
REPLACEMENT 1. REMOVE EXHAUST PIPE ASSY CENTER (a) Remove the 4 bolts and 4 compression springs. (b) Remove the exhaust pipe center from the 4 exhaust pipe supports. (c) Remove the 2 gaskets from ...
More about Toyota Highlander:
Stowing the flat tire, jack and all tools (with a full-size spare tire)
Remove the center wheel ornament by pushing from the reverse side. Be careful not to lose the wheel ornament. Stand the tire against the bumper with the inner surface facing toward you and install the outside spare tire cover. Pass the hoist assembly (c) and holding bracke ...
В© 2011-2020 Copyright www.tohighlander.com