Toyota Highlander Service Manual: Thermostat (2AZ-FE)
REPLACEMENT
1. DRAIN ENGINE COOLANT (See page 16-6 )
2. REMOVE FAN AND GENERATOR V BELT (See page 14-5 )
3. REMOVE GENERATOR ASSY (See page 19-16 )
4. DISCONNECT RADIATOR HOSE INLET
5. REMOVE WATER INLET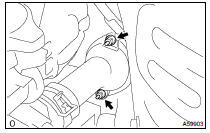 (a) Remove the 2 nuts and disconnect the water inlet from the cylinder block.
6. REMOVE THERMOSTAT
7. INSTALL THERMOSTAT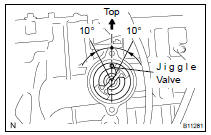 (a) Install a new gasket to the thermostat.
(b) Install the thermostat with the jiggle valve facing up.
HINT: The jiggle valve may be set within 10 on either side of the prescribed position.
8. INSTALL WATER INLET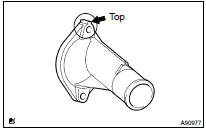 (a) Install the water inlet with the 2 nuts, as shown in the illustration.
Torque: 9.0 NVm (92 kgfVcm, 80 in.Vlbf)
9. INSTALL RADIATOR HOSE INLET
10. INSTALL GENERATOR ASSY (See page 19-16 )
11. INSTALL FAN AND GENERATOR V BELT (See page 14-5 )
12. ADD ENGINE COOLANT (See page 16-6 )
13. CHECK FOR ENGINE COOLANT LEAKS (See page 16-1 )
1. INSPECT WATER PUMP ASSY (a) Visually check for drain hole coolant leakage. (b) Turn the pulley, and check that the water pump bearing moves smoothly and noiselessly. If the bearing moves ...
More about Toyota Highlander:
On-vehicle inspection
1. INSPECT BRAKE BOOSTER (a) Airtightness check. Start the engine and stop it after 1 or 2 minutes. Depress the brake pedal several times slowly. HINT: If the pedal can be depressed (to the floor) the first time, but cannot be depressed as far on the 2nd or 3rd time, the boost ...
В© 2011-2020 Copyright www.tohighlander.com