Toyota Highlander Service Manual: Replacement
NOTICE: Before changing the starter, check the following again:
Connector connection
Accessory installation
1. REMOVE BATTERY
2. REMOVE BATTERY TRAY
3. REMOVE STARTER ASSY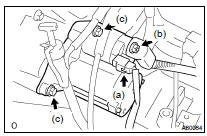 (a) Disconnect the starter connector.
(b) Open the terminal cap, remove the nut and disconnect the starter wire.
(c) Remove the 2 bolts and starter.
4. INSTALL STARTER ASSY
(a) Install the starter with the 2 bolts.
Torque: 37 NVm (377 kgfVcm, 27 ftVlbf) (b) Install the starter wire with the nut.
Torque: 9.8 NVm (100 kgfVcm, 7 ftVlbf) (c) Connect the starter connector.
5. INSTALL BATTERY TRAY
6. INSTALL BATTERY
(a) Install the battery clamp with the bolt and nut.
Torque: 5.5 NVm (56 kgfVcm, 49 inVlbf) (b) Connect the cables to the battery terminals.
Torque: 3.5 NVm (36 kgfVcm, 31 in.Vlbf)
1. REMOVE MAGNETIC SWITCH ASSY (a) Remove the nut and disconnect the lead wire from the magnetic switch. (b) Remove the 2 screws holding the magnetic switch to the starter drive housing. (c ...
More about Toyota Highlander:
Playing an audio cd and mp3/wma/aac discs
CD player operation Insert disc or select "cd" on the audio source selection screen with a disc inserted to begin listening to a cd. Audio control screen Pressing the "audio" button displays the audio control screen from any screens of the selected source. Audio source selection s ...
© 2011-2019 Copyright www.tohighlander.com