Toyota Highlander Service Manual: Lubrication system (3MZ-FE)
ON-VEHICLE INSPECTION
1. CHECK ENGINE OIL LEVEL
(a) Warm up the engine, stop the engine and wait for 5 minutes. The oil level should be between the dipstick's low level mark and full level mark.
If the oil level is low, check for leakage and add oil up to the full level mark.
NOTICE: Do not fill with engine oil above the full level mark.
2. CHECK ENGINE OIL QUALITY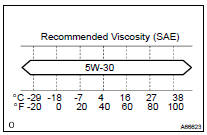 (a) Check the oil for deterioration, entry of water, discoloring or thinning.
If the quality is visibly poor, replace the oil.
Oil grade: API grade SL, Energy-Conserving or ILSAC, multigrade engine oil is recommended. SAE 5W-30 is the best choice for your vehicle, for good fuel economy, and good starting in cold weather.
3. REMOVE OIL PRESSURE SWITCH ASSY
(a) Disconnect the oil pressure switch connector.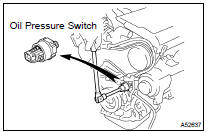 (b) Using a 24mm deep socket wrench, remove the oil pressure switch.
4. INSTALL OIL PRESSURE GAUGE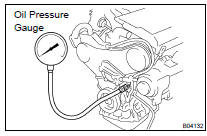 (a) Install the oil pressure gauge
5. WARM UP ENGINE
6. CHECK OIL PRESSURE
Specification:

7. INSTALL OIL PRESSURE SWITCH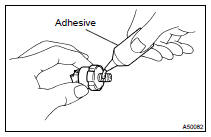 (a) Remove the oil pressure gauge.
(b) Apply adhesive to 2 or 3 threads of the oil pressure switch.
Adhesive: Part No. 08833-00080, THREE BOND 1344, LOCTITE 242 or equivalent
(c) Using a 24 mm deep socket wrench, install the oil pressure switch.
Torque: 15 NVm (152 kgfVcm, 11 ftVlbf)
NOTICE: Do not start the engine for at least 1 hour after installation of the switch.
(d) Connect the oil pressure switch connector.
8. START ENGINE AND CHECK FOR ENGINE OIL LEAKS
1. REMOVE OIL PUMP STRAINER SET (a) Remove the 2 nuts and oil pump strainer. 2. REMOVE OIL PUMP RELIEF VALVE (a) Using a socket wrench (27 mm), remove the plug. (b) Remove the valve spring ...
REPLACEMENT CAUTION: Prolonged and repeated contact of mineral oil with the skin will deplete the skin's natural fats, leading to dryness, irritation and dermatitis. In addition, used engine ...
More about Toyota Highlander:
Replacement
HINT: COMPONENTS: see page 55-59 1. DISCHARGE REFRIGERANT FROM REFRIGERATION SYSTEM (SEE PAGE 55-17 ) SST 07110-58060 (07117-58080, 07117-58090, 07117-78050, 07117-88060, 07117-88070, 07117-88080) 2. REMOVE BATTERY 3. REMOVE RADIATOR GRILLE (SEE PAGE 76-2 ) 4. DISCONNECT COOLER REFRIGERANT ...
В© 2011-2020 Copyright www.tohighlander.com