Toyota Highlander Service Manual: Integration control & panel ASSY
COMPONENTS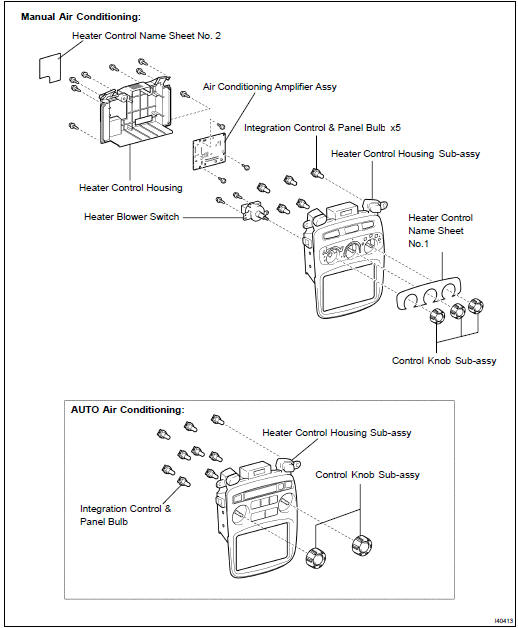 OVERHAUL
HINT: COMPONENTS: see page 55-25
1. REMOVE INSTRUMENT CLUSTER FINISH PANEL SUB-ASSY CENTER (SEE PAGE 71-10 )
2. REMOVE INTEGRATION CONTROL & PANEL ASSY (SEE PAGE 71-10 )
3. REMOVE RADIO RECEIVER ASSY (SEE PAGE 71-10 )
4. REMOVE CONTROL KNOB SUB-ASSY
5. REMOVE HEATER CONTROL NAME SHEET NO.1 (MANUAL AIR CONDITIONING)
6. REMOVE HEATER CONTROL NAME SHEET NO.2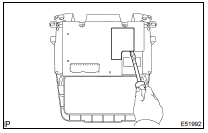 (a) Using a screwdriver protected by taping, remove the heater control name sheet No. 2.
7. REMOVE HEATER CONTROL HOUSING SUB-ASSY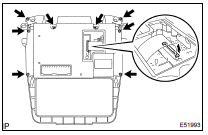 (a) Release the lock of connector and disconnect the cable.
(b) Remove the 8 screws and heater control housing.
8. REMOVE AIRCONDITIONER AMPLIFIER ASSY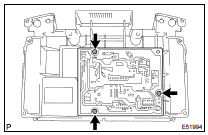 (a) Remove the 3 screws and air conditioner amplifier assy from the heater control housing.
9. REMOVE HEATER BLOWER SWITCH (MANUAL AIR CONDITIONING)
1. ADJUST V (COOLER COMPRESSOR TO CRANKSHAFT PULLEY) BELT NO.1 (a) Loosen bolt A. (b) Loosen bolt B. (c) Apply drive belt tension by turning bolt C. Drive belt tension: New belt: 160 to 180 l ...
COMPONENTS OVERHAUL HINT: COMPONENTS: see page 55-27 ,71-6 1. DISCHARGE REFRIGERANT FROM REFRIGERATION SYSTEM (SEE PAGE 55-17 ) SST 07110-58060 (07117-58080, 07117-58090, 07117-78050, 07117-8 ...
More about Toyota Highlander:
Memory recall function
Each electronic key can be registered to recall your preferred driving position. Registering procedure Record your driving position to button "1" or "2" before performing the following: carry only the key you want to register, and then close the driver's door. If 2 or more keys are in ...
© 2011-2019 Copyright www.tohighlander.com