Toyota Highlander Service Manual: Integration control & panel ASSY
COMPONENTS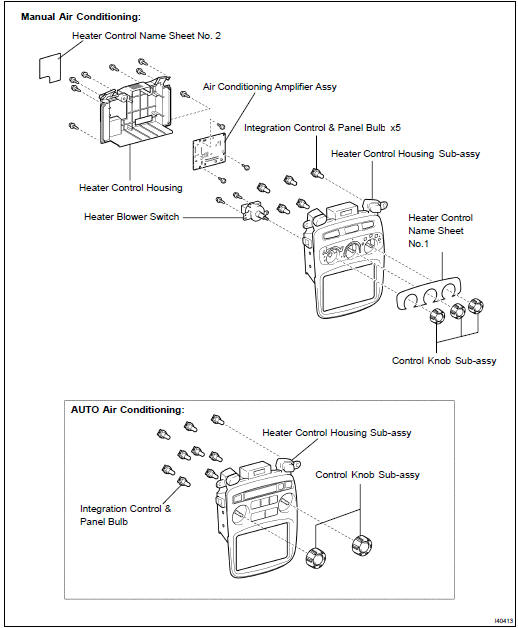 OVERHAUL
HINT: COMPONENTS: see page 55-25
1. REMOVE INSTRUMENT CLUSTER FINISH PANEL SUB-ASSY CENTER (SEE PAGE 71-10 )
2. REMOVE INTEGRATION CONTROL & PANEL ASSY (SEE PAGE 71-10 )
3. REMOVE RADIO RECEIVER ASSY (SEE PAGE 71-10 )
4. REMOVE CONTROL KNOB SUB-ASSY
5. REMOVE HEATER CONTROL NAME SHEET NO.1 (MANUAL AIR CONDITIONING)
6. REMOVE HEATER CONTROL NAME SHEET NO.2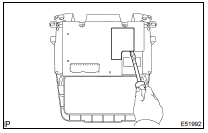 (a) Using a screwdriver protected by taping, remove the heater control name sheet No. 2.
7. REMOVE HEATER CONTROL HOUSING SUB-ASSY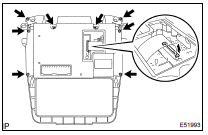 (a) Release the lock of connector and disconnect the cable.
(b) Remove the 8 screws and heater control housing.
8. REMOVE AIRCONDITIONER AMPLIFIER ASSY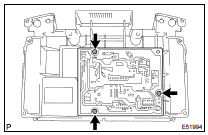 (a) Remove the 3 screws and air conditioner amplifier assy from the heater control housing.
9. REMOVE HEATER BLOWER SWITCH (MANUAL AIR CONDITIONING)
1. ADJUST V (COOLER COMPRESSOR TO CRANKSHAFT PULLEY) BELT NO.1 (a) Loosen bolt A. (b) Loosen bolt B. (c) Apply drive belt tension by turning bolt C. Drive belt tension: New belt: 160 to 180 l ...
COMPONENTS OVERHAUL HINT: COMPONENTS: see page 55-27 ,71-6 1. DISCHARGE REFRIGERANT FROM REFRIGERATION SYSTEM (SEE PAGE 55-17 ) SST 07110-58060 (07117-58080, 07117-58090, 07117-78050, 07117-8 ...
More about Toyota Highlander:
Exhaust pipe ASSY (2AZ-FE)
COMPONENTS REPLACEMENT NOTICE: Check if an old gasket remains on the pipe. If remains, remove it. Check if any bolts or nuts are rusted. If rusted, replace them. 1. REMOVE EXHAUST PIPE ASSY TAIL (a) Remove the 2 bolts and pipe tail from the exhaust pipe center. (b) Remove the pipe ...
В© 2011-2020 Copyright www.tohighlander.com