Toyota Highlander Service Manual: Customer problem analysis
HINT:
In troubleshooting, the problem symptoms must be confirmed accurately. Preconceptions should be discarded in order to give an accurate judgement. To clearly understand what the problem symptoms are, it is extremely important to ask the customer about the problem and the conditions at the time it occurred.
As much information as possible should be gathered for reference. Past problems that seem unrelated may also help in some cases. In the Diagnostic section, a customer problem analysis table is provided for each system.
5 items are important points in the problem analysis:

(Sample) Supplemental Restraint System check sheet.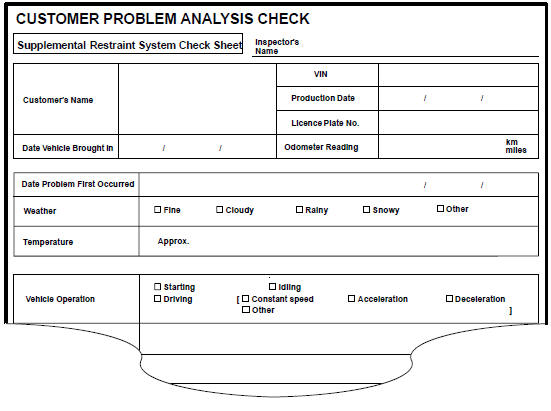 HINT: Carry out troubleshooting in accordance with the procedures below. Only a basic procedure is shown. Details in the Diagnostic Section show the most effective methods for each circuit. Conf ...
HINT: The diagnostic system in the HIGHLANDER has various functions. The first function is the Diagnostic Trouble Code (DTC) check. A DTC is a code stored in the ECU memory whenever a malfun ...
More about Toyota Highlander:
Phone display settings
Display the "phone/message settings" screen. Select "phone display settings". Select the desired item to be set. Change the incoming call display. "Full screen": when a call is received, the hands-free screen is displayed and can be operated on the scr ...
© 2011-2019 Copyright www.tohighlander.com