Toyota Highlander Owners Manual: Turn signal lever
Operating instructions
Right turn
Lane change to the right (move the lever partway and release it) the right hand signals will flash 3 times.
Lane change to the left (move the lever partway and release it) the left hand signals will flash 3 times.
Left turn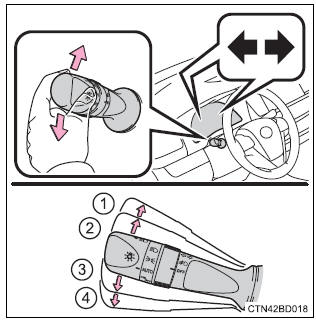 Turn signals can be operated when
Vehicles without a smart key system the engine switch is in the "on" position.
vehicles with a smart key system the engine switch is in ignition on mode.
If the indicator flashes faster than usual
Check that a light bulb in the front or rear turn signal lights has not burned out.
Customization
The number of times the turn signals flash during a lane change can be changed. (Customizable feature )
To enter s mode, shift the shift lever to s. Shift ranges can be selected by operating the shift lever, allowing you to drive in the shift range of your choosing. The shift range can be selected by ...
Operating instructions To set the parking brake, fully depress the parking brake pedal with your left foot while depressing the brake pedal with your right foot. (Depressing the pedal again r ...
More about Toyota Highlander:
Electronic circuit inspection procedure
1. BASIC INSPECTION (a) RESISTANCE MEASURING CONDITION OF ELECTRONIC PARTS Unless stated, all resistance is measured at an ambient temperature of 20 C (68 F). Resistances measured may be outside the specifications if measured at high temperatures, i.e. immediately after the vehi ...
В© 2011-2019 Copyright www.tohighlander.com