Toyota Highlander Service Manual: Replacement
1. REMOVE GENERATOR ASSY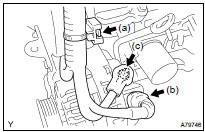 (a) Remove the wire harness clamp.
(b) Disconnect the generator connector.
(c) Open the terminal cap, remove the nut and disconnect the generator wire.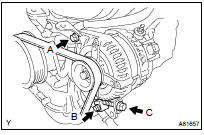 (d) Loosen bolts A and B.
(e) Loosen bolt C to lessen the tension of the V belt.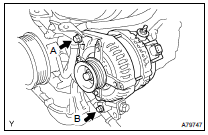 (f) Remove bolts A and B, and the generator.
2. INSTALL GENERATOR ASSY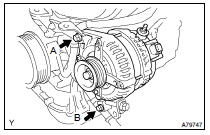 (a) Temporarily install the generator with bolts A and B.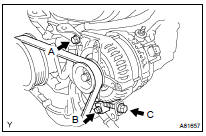 (b) Adjust the V belt tension by tightening bolt C (see page 14-125 ).
(c) Tighten bolts A and B.
Torque: 58 NVm (592 kgfVcm, 43 ftVlbf) for bolt A 18 NVm (184 kgfVcm, 13 ftVlbf) for bolt B
(d) Install the generator wire with the nut.
Torque: 9.8 NVm (100 kgfVcm, 7.0 ftVlbf) (e) Connect the generator connector.
(f) Install the wire harness clamp.
3. INSPECT V BELT (See page 14-121 )
1. REMOVE GENERATOR PULLEY SST 09820-63010 (09820-06010, 09820-06020) HINT: (a) Hold SST (1-A) with a torque wrench, and tighten SST (1-B) clockwise to the specified torque. Torque: 39 ...
More about Toyota Highlander:
On-vehicle inspection
1. INSPECT COOLING SYSTEM FOR LEAKS (a) Remove the radiator cap. CAUTION: Do not remove the radiator cap while the engine and radiator are still hot. Pressurized, hot engine coolant and steam may be released and cause serious burns. (b) Fill the radiator with coolant and attach a radiator ...
В© 2011-2021 Copyright www.tohighlander.com