Toyota Highlander Service Manual: Replacement
NOTICE: Before changing the starter, check the following again:
Connector connection
Accessory installation
1. REMOVE BATTERY
2. REMOVE BATTERY TRAY
3. REMOVE STARTER ASSY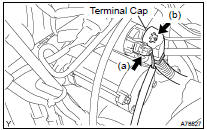 (a) Disconnect the starter connector.
(b) Open the terminal cap, remove the nut and disconnect the starter wire.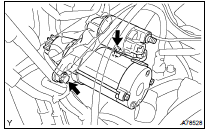 (c) Remove the 2 bolts and starter.
4. INSTALL STARTER ASSY
(a) Install the starter with the 2 bolts.
Torque: 37 NVm (377 kgfVcm, 27 ftVlbf)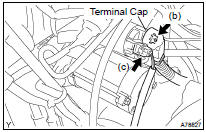 (b) Install the terminal nut and cover the nut with the cap.
Torque: 9.8 NVm (100 kgfVcm, 7 ftVlbf) (c) Connect the starter wire.
5. INSTALL BATTERY TRAY
6. INSTALL BATTERY
(a) Install the battery clamp with the bolt and nut.
Torque: 5.5 NVm (56 kgfVcm, 49 in.Vlbf) (b) Connect the cables to the battery terminals.
Torque: 3.5 NVm (36 kgfVcm, 31 in.Vlbf)
1. REMOVE MAGNETIC SWITCH ASSY (a) Remove the nut and disconnect the lead wire from the magnetic switch. (b) Remove the 2 screws holding the magnetic switch to the starter drive housing. ...
More about Toyota Highlander:
Positioning a floor jack
When using a floor jack, follow the instructions in the manual provided with the jack and perform the operation safely. When raising your vehicle with a floor jack, position the jack correctly. Improper placement may damage your vehicle or cause injury. Front Rear ...
В© 2011-2020 Copyright www.tohighlander.com