Toyota Highlander Owners Manual: Gauge and meters
The displayed content may differ depending on the type of meter.
Vehicles with monochrome display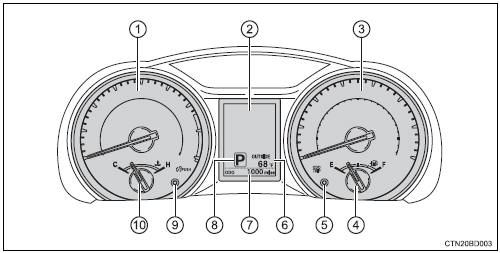 Vehicles with color display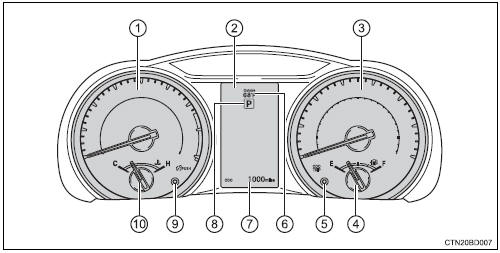 Tachometer displays the engine speed in revolutions per minute.
Multi-information display presents the driver with a variety of driving-related data.
Speedometer
Fuel gauge
Trip meter reset knob switches the trip information.
Outside temperature odometer and trip meter display
Shift position and shift range displays the selected shift position or selected shift range.
Meter panel lights control button
Engine coolant temperature gauge displays the engine coolant temperature.
Changing the trip meter display
Switches between the trip meter "a" and "b" displays. When the trip meter is displayed, pressing and holding the knob will reset the trip meter.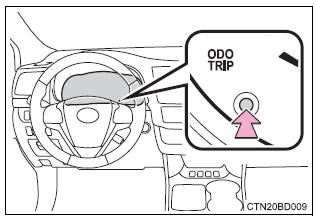 Instrument panel light control
The brightness of the meter panel lights can be adjusted.
Pressing the button will adjust the brightness of the meter panel lights.
The brightness level of the meters when the surroundings are bright (day mode) and dark (night mode) can be adjusted individually. However, when in day mode, adjusting the brightness level will also change the brightness level of night mode.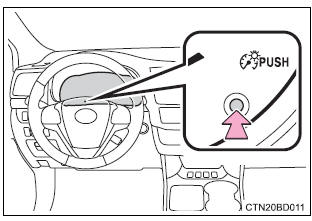 The meters and display illuminate when
vehicles without a smart key system
The engine switch is in the "on" position.
vehicles with a smart key system
The engine switch is in ignition on mode.
Outside temperature display
In the following situations, the correct outside temperature may not be displayed, or the display may take longer than normal to change.
When stopped, or driving at low speeds (less than 12 mph [20 km/h])
when the outside temperature has changed suddenly (at the entrance/exit of a garage, tunnel, etc.)
Notice

To prevent damage to the engine and its components
Do not let the indicator needle of the tachometer enter the red zone, which indicates the maximum engine speed.
The engine may be overheating if the engine coolant temperature gauge is in the red zone (h). In this case, immediately stop the vehicle in a safe place, and check the engine after it has cooled completely.
The indicators inform the driver of the operating state of the vehicle's various systems. Turn signal indicator Headlight indicator Tail light indicator Headlight high beam indicator *2 ...
More about Toyota Highlander:
Replacement
1. REMOVE GENERATOR ASSY (a) Remove the wire harness clamp. (b) Disconnect the generator connector. (c) Open the terminal cap, remove the nut and disconnect the generator wire. (d) Loosen bolts A and B. (e) Loosen bolt C to lessen the tension of the V belt. (f) Remove bolts A and ...
© 2011-2021 Copyright www.tohighlander.com