Toyota Highlander Owners Manual: Folding down the third seats
Before folding down the third seats
Stow the third seat belt buckles.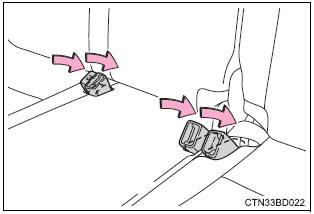 Pass the outer seat belts through the seat belt hangers and secure the seat belt plates.

This prevents the shoulder belts from being damaged.

Make sure that the seat belts are removed from the hangers before using them.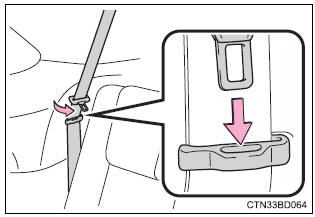 Lower the head restraints to the lowest position. (
Folding down the third seats
While pulling the straps, fold down the seatbacks.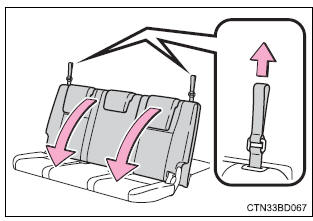 Returning the third seats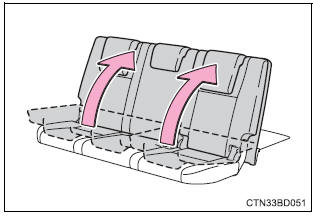 Lift up the seatbacks until they lock.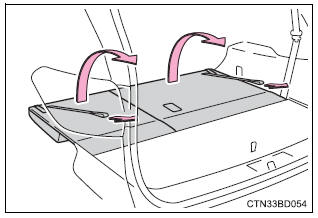 Pull the straps and raise the seatbacks until they lock.
After using either strap, use the velcro on the end of the strap to attach it to the seatback.

Warning

When folding the rear seatbacks down
Observe the following precautions. Failure to do so may result in death or serious injury.
Do not fold the seatbacks down while driving.
Stop the vehicle on level ground, set the parking brake and shift the shift lever to p.
Do not allow anyone to sit on a folded seatback or in the luggage compartment while driving.
Do not allow children to enter the luggage compartment.
Do not fold down a rear seatback when there are passengers sitting in the rear seats or when there is luggage placed on the rear seats.
Be careful not to catch your hand when folding the rear seatbacks.
Seat adjustment
to reduce the risk of sliding under the lap belt during a collision, do not recline the seat more than necessary.

If the seat is too reclined, the lap belt may slide past the hips and apply restraint forces directly to the abdomen, or your neck may contact the shoulder belt, increasing the risk of death or serious injury in the event of an accident.

Adjustments should not be made while driving as the seat may unexpectedly move and cause the driver to lose control of the vehicle.

Be careful that the seat does not hit passengers or luggage.
Be careful not to get your hands or feet caught in the seat.
After adjusting or returning the seats
Observe the following precautions. Failure to do so may result in death or serious injury.
Make sure that the seat and seatback are securely locked in position by lightly rocking them back and forth.
Check that the seat belts are not twisted or caught in the seatback.
Before folding down the second seats Stow the armrest. With a side table: stow the side table. Stow the second seat belt buckles. Without a side table With a side table ...
This feature automatically adjusts the driver's seat and outside rear view mirrors to make entering and exiting the vehicle easier or to suit your preferences. ...
More about Toyota Highlander:
Display contents
The multi-information display presents the driver with a variety of driving-related data. Drive information warning messages Eco driving indicator zone display Drive information Items displayed can be switched by pressing the "disp" switch. Current fuel c ...
© 2011-2019 Copyright www.tohighlander.com