Toyota Highlander Owners Manual: Erasing the entire homelink® memory (all three programs)
Press and hold the 2 outside buttons for 10 seconds until the homelink® indicator light changes from continuously lit (orange) to rapidly flashing (green).
If you sell your vehicle, be sure to erase the programs stored in the homelink® memory.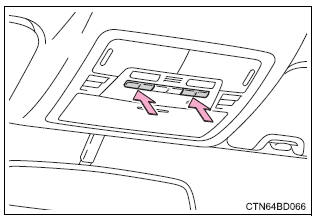 Programs stored in the homelink® memory
The registered codes are not erased even if the battery cable is disconnected.
If learning failed when registering a different code to a homelinkr button that already has a code registered to it, the already registered code is not erased.
Before programming
Install a new battery in the transmitter.
The battery side of the transmitter must be pointed away from the homelink.
Certification for the garage door opener
This device complies with fcc rules part 15 and industry canada rss-210.
Operation is subject to the following two conditions: (1) this device may not cause harmful interference, and (2) this device must accept any interference that may be received including interference that may cause undesired operation.
Warning
: the transmitter has been tested and complies with fcc and ic rules.
Changes or modifications not expressly approved by the party responsible for compliance could void the user's authority to operate the device. The term "ic:" before the certification/registration number only signifies that industry canada technical specifications were met.
Ic: 279b-440ahl5 model/fcc id: cb2440ahl5
Cet appareil est conforme aux normes fcc partie 15 et industry canada rss-210.
Son fonctionnement est soumis aux deux conditions suivantes: (1) cet appareil ne doit pas causer d'interférences nuisibles et (2) cet appareil doit accepter toute interférence qui peuvent être reçues y compris les interférences pouvant provoquer un fonctionnement indésirable.
Avertissement: l'émetteur a été testé et est conforme aux régles de la fcc et ic. Les changements ou modifications non expressément approuvés par la partie responsable de la conformité pourrait annuler l'autorité de l'utilisateur de faire fonctionner le dispositif.
Le terme "ic:" devant le numéro de certification / enregistrement signifie seulement que les spécifications techniques d'industry canada ont été respectées.
Ic: 279b-440ahl5 model/fcc id: cb2440ahl5
For additional programming assistance with your homelink® universal transceiver
Visit on the web

Warning

When programming a garage door or other remote control device
The garage door may operate, so ensure people and objects are out of danger to prevent potential harm.
Conforming to federal safety standards
Do not use the homelink"µ compatible transceiver with any garage door opener or device that lacks safety stop and reverse features as required by federal safety standards.
This includes any garage door that cannot detect an obstruction object. A door or device without these features increases the risk of death or serious injury.
When operating or programming homelink
Never allow a child to operate or play with the homelink® buttons.
The status of the opening and closing of a garage door is shown by the indicators. Opening Closing This function is only available if the garage door opener motor used is a compatible ...
Safety connect is a subscription-based telematics service that uses global positioning system (gps) data and embedded cellular technology to provide safety and security features to subscribers. S ...
More about Toyota Highlander:
Replacement
HINT: Installation is in the reverse order of removal. 1. PRECAUTION (SEE PAGE 60-1 ) 2. DISCONNECT BATTERY NEGATIVE TERMINAL (SEE PAGE 60-1 ) 3. REMOVE GLOVE COMPARTMENT DOOR ASSY (SEE PAGE 71-10 ) 4. REMOVE INSTRUMENT PANEL FINISH PANEL LOWER NO.2 (SEE PAGE 71-10 ) 5. DISCONNECT FRONT PASSEN ...
© 2011-2019 Copyright www.tohighlander.com