Toyota Highlander Service Manual: Engine
ON-VEHICLE INSPECTION
HINT: Inspect these items when the engine is cold.
1. REPLACE TIMING BELT (See page 2AZ-FE: 14-68 , 3MZ-FE: 14-206 )
2. INSPECT DRIVE BELT (See page 2AZ-FE: 14-5 , 3MZ-FE: 14-125 )
3. REPLACE SPARK PLUGS (See page 2AZ-FE: 18-1 , 3MZ-FE: 18-7 )
4. Canada: INSPECT AIR FILTER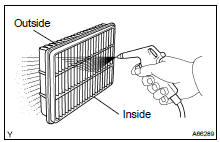 (a) Remove the air filter.
(b) Visually check that the air filter is not excessively damaged or oily.
HINT: Oiliness may indicate that the PCV valve is stuck.
If necessary, replace the air filter.
(c) Clean the filter with compressed air. First blow from the inside thoroughly, and then blow from the outside of the filter.
(d) Reinstall the air filter.
5. REPLACE AIR FILTER
(a) Replace the air filter with a new one.
6. REPLACE ENGINE OIL AND OIL FILTER (See page 2AZ-FE: 17-3 , 3MZ-FE: 17-21 )
7. REPLACE ENGINE COOLANT (See page 2AZ-FE: 16-6 , 3MZ-FE: 16-26 ) AND INSPECT RADIATOR FIN
(a) Check that the radiator and condenser are not blocked with leaves, dirt, or insets, and clean the hose connection.
8. INSPECT GASKET IN FUEL TANK CAP (See page 2AZ-FE: 12-6 , 3MZ-FE 12-23 )
9. INSPECT FUEL LINES AND CONNECTIONS, FUEL TANK VAPOR VENT SYSTEM HOSES AND FUEL TANK BANDS (See page 2AZ-FE: 11-1 , 3MZ-FE: 11-35 )
(a) Visually check the fuel lines for cracks, leakage, loose connections, deformation or tank band looseness.
10. INSPECT EXHAUST PIPES AND MOUNTINGS
(a) Visually check the pipes, hangers and connections for severe corrosion, leaks or damage.11. INSPECT
VALVE CLEARANCE (See page 2AZ-FE: 14-6 , 3MZ-FE: 14-127 )
GENERAL MAINTENANCE 1. GENERAL NOTES Maintenance items may vary from country to country. Check the owner's manual supplement in which the maintenance schedule is shown. Every service item ...
ON-VEHICLE INSPECTION 1. INSPECT BRAKE LINE PIPES AND HOSES HINT: Check in a well-lighted area. Check the entire circumference and length of the brake hoses using a mirror as required. Turn t ...
More about Toyota Highlander:
Rear sunshades (if equipped)
Pull the tab up. Hook the sunshade on to the anchors. To lower the sunshade, pull the tab up slightly to unhook the shade from the anchors, and lower it slowly. Notice To ensure normal operation of the rear sunshades, observe the following precautions. ...
В© 2011-2020 Copyright www.tohighlander.com